Top activities to do whilst in Jurien
Watch this video and read below for a list of awesome things to get up to whilst relaxing in Jurien Bay

Snorkeling at Sandy Cape beach & Jurien Bay Snorkel trail
Sandy Cape is located about 10km north of Jurien Bay and this beach spot is amazing. The beach is in a little bay and is protected from the wind (great for those windy summer afternoons). The water is crystal clear, it's not always busy, and is one of Western Australia's most stunning beaches. Don't forget your snorkel and goggles to experience the under water beauty and fish life! Another beautiful snorkeling location is Jurien Bay Snorkel Trail. It's right where the old jetty is located. You may even spot some sea lions!
If there's an icon that captures the essence of Jurien Bay, it has to be the jetty. The new jetty spans 162 metres into the Indian Ocean just a short walk from the Skydive Jurien Bay office. It's a popular place for year-round fishing, lazy walks and golden hour photography. In summer, you'll see kids of all ages chucking themselves over the edge for a little water bomb action.
Just next to the new jetty stands the old jetty pylons. Not only does this site offer a nice backdrop for photos, it's also home to a beautiful snorkel trail. It's free to use but be sure to snorkel with a buddy. If you don't have a masks and snorkel, they can be purchased from Sea Sport Tackle nearby.
Visit Jurien Bay Adventure Tours and Turquoise Coast Safaris for more information.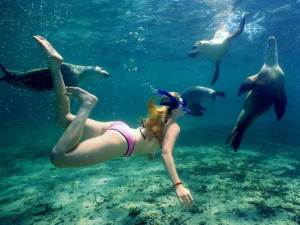 Relax at Jurien Bay Jetty
Jurien Bay is located on the iconic Turquoise Coast. The beaches are world class. Grab a towel, a hat, and some sun screen and enjoy our stunning beaches. The water is crystal clear. If you didn't get enough jumping fix from your skydive then you can jump off the Jurien Bay jetty.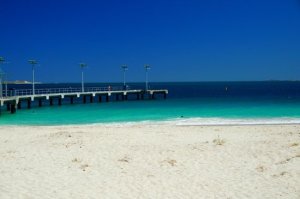 Swimming & Sand boarding at Sandy Cape
The massive white sand dunes located at Sandy Cape (near Jurien Bay) are the perfect place to sand board. It's accessible for people of all ages and abilities, you don't need to be a pro sand boarder to have fun here. Hire a stand up board or toboggan (great for kids) and have some fun in the sand! You can hire sand boards from the local shops in Jurien or you can go on a sand boarding tour with Jurien Bay Adventure Tours. The beach is amazing too and protected from the seabreeze, so it's a pleasure 24/7.
Discover the Pinnacles Desert
The Pinnacles are limestone formations within Nambung National Park, near the town of Cervantes, and only 20 minutes drive south of Jurien Bay. It's massively popular amongst tourists, with over 150,000 people visiting the park each year. The pinnacle formations are best viewed in the early morning or late afternoon. If you have your own transport then you can drive yourself there. If not, Jurien Bay Adventure Tours will take you there!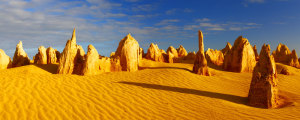 Go fishing!
Jurien Bay is a hotsport for fishing enthusiasts and famous for great fish and plenty of lobsters (crayfish)! Whether you want to bring your own rod and tackle, or go on a fishing charter out to sea, the choice is yours. There is a huge variety of fish in the waters and its guaranteed to be an amazing experience. Fore more info on fishing charters visit Turquoise Coast Safaris.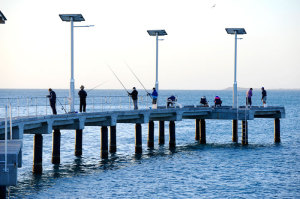 Explore caves
The most well known cave within the Drovers Cave network is the Stockyard Gully Caves situated off Cockleshell Gully Road in the neighbouring Shire of Coorow. This is the only cave in the area that is open to the public.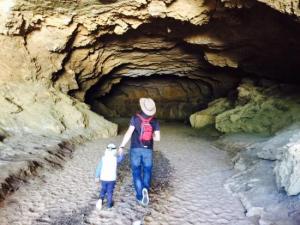 Go on a segway tour
In Jurien Bay ou can hire a Personal Electric Transporter (commonly known as a segway!) from Chariots of Hire in Jurien Bay. In peak periods you can find them set up at the northern end of the Dobbyn Park foreshore (Heaton Street) but they are more than happy to bring the machines to you. Please call 0427 346 555.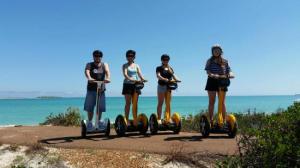 4WD Tours
The area's sand dunes, rugged coastline and national parks offer loads of opportunity to get off the beaten track. If you don't have a 4WD, don't worry. Jurien Bay Adventure Tours offers Sandboarding, Pinnacles, Mount Lesueur and Stockyard Gully Caves Tours. Check out www.jurienbayadventuretours.com.au or call 1300 GO ADVENTURE. Even if you're just planning a daytrip, weather permitting, you could fit in a jump and a half day 4WD tour for an action packed day of adventure! Bring your bathers, snorkelling gear, sun protection and a towel and let your tour guide take care of everything else.
Eat & Drink!
The Jurien Bay Hotel and Jurien Bay Tavern are two great locations for lunch, dinner, a drink and a night out with friends. Enjoy the chilled out atmosphere and some great food, don't forget to sample the seafood! There's a huge menu at both venues so even the kids will be happy. There are also a number of cafes, coffee shops, and a supermarket.
Need more time? Why not stay the night!? Check out the various accommodation options available. There's something for every budget.