Here's why you should skydive Perth with us.
1. We are the experts when it comes to skydiving – that's right, our Chief Instructor, Pete Lonnon, is the most experienced Chief Instructor in Western Australia with over 30 years experience.  He has been the driving development of the skydiving industry in Australia for many years and is also a commercial pilot, Solo Skydiving Instructor, Tandem Instructor,  Instructor Examiner and Licensed Display Organiser.
2. Our safety record is flawless – Since Skydive Jurien Bay began operating in 2009 we have had no incident causing serious injury to any of our tandem skydive Perth customers. In fact, over Pete's 30+ year career in the sport, there has never been a major tandem skydive injury under his watch.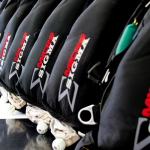 3. Our equipment is modern and state-of-the-art – You would expect that all skydive operators have new and well maintained equipment right? Well unfortunately that's not always the case. But with Skydive Jurien Bay it is. We have invested heavily in the most technically advanced tandem skydive equipment to ensure our staff and customers an enjoyable and safe tandem skydive experience. Click here to learn more about our commitment to safety.
4. Best value for money, no bullshit – When you pay for a 14,000ft tandem skydive with us, that's the minimum height you'll jump from. No less. Other skydive operators out there will sell you cheap "from up to 14,000ft" skydives, which means you will jump "from up to 14,000ft", meaning you will most likely be taken only to 10,000ft. That's why they sell the skydives so cheap! Don't fall for this trap.
5. No "over weight tax" – We do NOT charge extra if you're above 90kg unlike our competitors who will charge you up to $75.
6. We have a great reputation – We are Australia's most positively reviewed tandem skydive across TripAdvisor, Google and Facebook. The majority of our customers hear about us through word-of-mouth.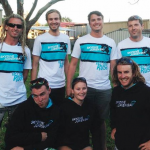 7. Our staff are friendly and love skydiving – We love what we do and it's obvious. From the moment you arrive you'll feel the buzz and excitement that tandem skydiving at Skydive Jurien Bay offers. All our staff are stoked to be a part of this special experience for you and this shows through their energy and positive vibes they give out. We're a big family and you'll love our welcoming atmosphere.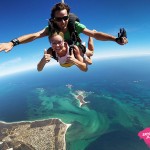 8. Our incredible views – We didn't get the reputation of being the "World's Most Beautiful Beach Skydive" for nothing. Throughout your entire skydive you will be in total awe of the amazing views that the Turquoise Coast offers. It is pure eye candy and the sole reason we chose to set up shop in Jurien Bay back in 2009. There is no other way to better see the amazing West Australian coast line.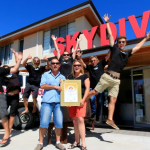 9. We're a professional team and we win awards – Okay so it's time to brag a little… we've won a few serious awards! 2013 WA Tourism Awards – Adventure Tourism – Gold, 2012 WA Tourism Awards – Adventure Tourism – Gold, 2012 Best Regional Business Telstra Business Awards, 2011 WA Tourism Awards – Adventure Tourism – Bronze, 2010 WA Tourism Awards – Best New Tourism Development – Bronze.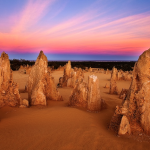 10. The Pinnacles Desert – Located only 20 minutes south of Jurien Bay, the Pinnacles is a true desert landscape in Nambung National Park, where the weathered rock spires of the Pinnacles rise out of yellow sand dunes. It's an amazing site that has to be seen. It's especially beautiful at sunrise and sunset.