The #1 place to go tandem skydiving in Perth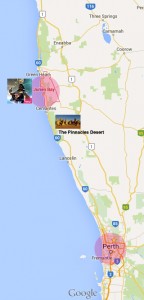 Only 2 hours north of Perth is the World's Most Beautiful Beach Skydive, Skydive Jurien Bay.
Getting to Jurien Bay is easy via Indian Ocean Drive, and on the drive you have the opportunity to check out the Pinnacles Desert, a natural wonder that will leave you in awe. We offer free return transport every Thursday with a same day pick up and drop off into the Perth CBD (Call 08 9652 1320 to arrange this with us).
Discover why more Perth locals and tourists are choosing to skydive in Jurien Bay. Read our customer reviews on Trip Advisor. Skydive Jurien Bay is Australia's most positively reviewed tandem skydive.
Perth's longest freefall – view prices
Because we are located at sea level, and we jump from up to 15,000ft, we're the longest freefall in Perth (Western Australia) and Perth's highest skydive. And we guarantee you will get the height you pay for, or you won't pay.
Skydives start from only $309 – view prices
You can choose what height you jump from and prices start from $300 for an 8,000ft tandem skydive. If you're unsure what height to choose, we always recommend the highest, because the freefall is one of the best parts.
We professional edit an amazing video of your skydive and will provide you will over 150 high resolution photos. You'll be able to re-live your Perth skydive experience over and over again. *Additional charges apply.
what are you waiting for? Get the rush!