Preparing for your first skydive
You've seen your friends do it, celebrities do it, children and the elderly do it. And so now it's your turn huh? For most people this is a huge decision. Whether you're ready to jump now or not quite convinced yet, here is some basic advice to help you prepare for your first tandem skydive in Perth.
1. It's okay to be nervous, don't fight it.
It's 100% normal to feel nervous. This is actually makes the adventure that much more exciting. Acknowledge your nerves but don't let them take over you. They serve no real purpose. Save them for when you're about to jump out of the plane. A professional and experienced tandem instructor understands these nerves (we've all been there). Our highly experienced and empathetic instructors will take the time to help you feel at ease.
2. Do your drop zone research
In Western Australia there are several tandem skydive businesses for you to choose from. It's up to you to do your research as they are not all equal. A good place to start is by looking at online reviews on Google and Facebook. This will give you a very quick insight into what other peoples experience was like.
3. Don't value price over safety
Take the time to understand your drop zones commitment to safety. Has your chosen drop zone had any incidents? Perhaps it's a beach drop zone and they have landed customers in the water? Make sure the drop zone you choose has not had any of these kind of incidents. At Skydive Jurien Bay we have a perfect safety record.
Here is a news video of a skydive operation in Rockingham that landed their passengers into the ocean. The company in this video is in no way connected to or affiliated with Skydive Jurien Bay.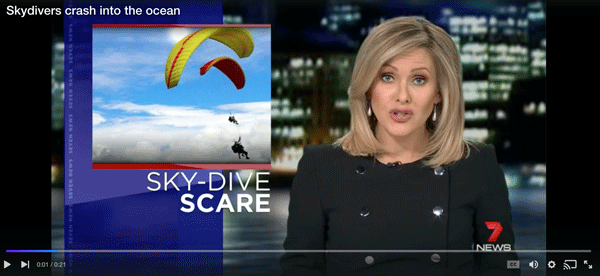 4. Budget for the video & photos
Sure, it's going to mean you end up paying around $150 more but having the photos and video means you'll be able to re-live your skydive experience over and over again. There will be moments in your skydive that you forget, so by having the video you are able to recall every moment. Not to mention the bragging rights.
5. Understand the difference between "from up to 14,oooft" and "14,oooft"
This is really important. "From up to 14,000ft" means that you jump from "up to", meaning you could jump from less eg 10,000ft. So when you pay for a "from up to ……" skydive you are really risking not getting what you pay for. At Skydive Jurien Bay we do not sell "from up to" skydives, we sell the heights that we go to, and we guarantee that you will jump from the altitude you choose, nothing less.
6. What to wear
If it's summer, then shorts and a t-shirt will be fine. If it's outside of summer then we suggest comfy pants and a jumper. It can be chilly in the plane so best to be as comfortable as possible. Once you're in freefall you will not notice the temperature at all, we guarantee that.
7. Bring a friend
Experiences like skydiving are best enjoyed when shared. So bring a friend or family member with you to jump also. You'll be able to share the excitement together in the plane as you climb to your chosen jump altitude. It will be an awesome bonding moment that you'll never forgot.