Where are you from?
Brazil
What's your role here at Skydive Jurien Bay
Tandem Master, AFF Instructor
If you could only have one meal for the rest of your life, what would it be?
Barbeque
What is the most random thing you've watched all the way through on Netflix?
Tarantino movies
What's your most bizarre talent?
Forget or lost any kind of things in less then 5 min
What kind of skydive excites you the most?
Every skydive excites me!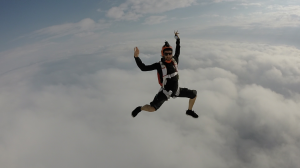 What's one thing that not a lot of people know about your position that they should?
If I tell, I need to kill them
What was your first thought when you woke up this morning?
Who is the mofo calling me so early
What's the most frequently asked question you receive from customers, and what's the answer?
Where is my google? Answer: You don´t have parachute, why are you worry about googles?
What's one of the most memorable things you've ever done?
What i'm doing now…in more 2 monhs i'll complete skydiving in 5 continents in less then a year
Can you describe your favourite interaction with a customer?
Look their smiles after the parachute openings. It´s GIANT!
If you could wake up as someone else, who would it be and why?
I would like to be myself…I´m happy everyday.
Do you have any hidden talent or is there a fun fact about you we should know about?
My big talent is hide all my talents!